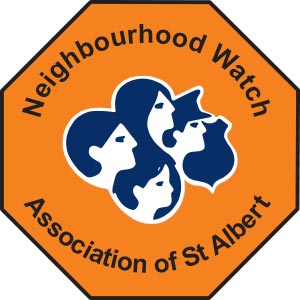 The Neighbourhood Watch Association of St. Albert operates independently from Edmonton Neighbourhood Watch. However, we share the same crime prevention objectives and are a partner on this web site because much of the information is relevant to residents throughout the region.

St. Albert Neighbourhood Watch supports programs and services for St. Albert residents, including the following:
9pm Routine
Helps prevent crime by reminding residents to secure their property before nightfall. You are encouraged to use this diagram and exchange phone numbers with your nearest neighbours so you can alert each other when something is amiss.
What's Up Now
Be notified by email and text message when St. Albert RCMP releases information to the media – you choose which topics are of interest to you.
Frauds and Scams
This web site contains information about the frauds and scams happening in Canada.
Click here for a fraud tip sheet from the RCMP.
Anti-theft Licence Plate Fasteners
Anti-theft licence plate fasteners are free for St. Albert residents, and can be installed and removed with a special screwdriver bit. However, we must see each vehicle to determine what thread type and length of bolt is appropriate. Call 780.460.4276 to arrange for installation.
St. Albert Crime Map
View a map of the last 2 weeks of crime activity in St. Albert.
"Do Not Hold Door Open" Stickers
Remind your tenants to not give strangers access to secured premises.
Mission Statement
Neighbourhood Watch strives to educate the public and to encourage their active participation in crime prevention programs.
Contact Us
Phone: 780.460.4276
Email: info@eyewatch.info
Mail: c/o RCMP, 96 Bellerose Drive, St. Albert, AB T8N 7A4