***[12/25/2020] New Notice! (Please see below)
Research has shown that crime is significantly reduced where residents are visibly present and are actively involved on their streets and in their neighbourhoods. Individuals out randomly walking are more effective than scheduled citizen patrols.
When individuals are aware of their neighbourhood, they are better equipped to recognize and respond when something is not "right".
Who? You walk your block
How? Take a walk
Where? In your neighbourhood
When? Whenever you like
Why? To prevent crime before it happens
Register for the Program! Log a Walk!
Why REGISTER your participation & LOG your walks?
Edmonton Neighbourhood Watch can track the success of community programs, provide resources to communities participating in the program & offer promotions and prizes for participants.
The Edmonton Police Service can use the walking statistics to determine if crime reduction in a neighbourhood may be associated with resident's participation in the program.
(Statistics provided based on the number walks & time walked by community league – not by name of participant.)
The City of Edmonton can see where community involvement is benefitting neighbourhoods. This may help communities to access or request resources for the community.
Local business may offer incentives or discounts to community members involved in the program.
What to do while you are Walking Your Block:
Become familiar with your surroundings:
Take the time to meet and greet your neighbours.
Report any suspicious activities to police at 780-423-4567 or use the EPS Mobile App
Become familiar with the homes and vehicles that belong in your area.
If you see a crime in progress, call 911 and do not engage. It is better to be a good witness than an injured victim.
** See something suspicious, report it **
12/25/2020 NOTICE: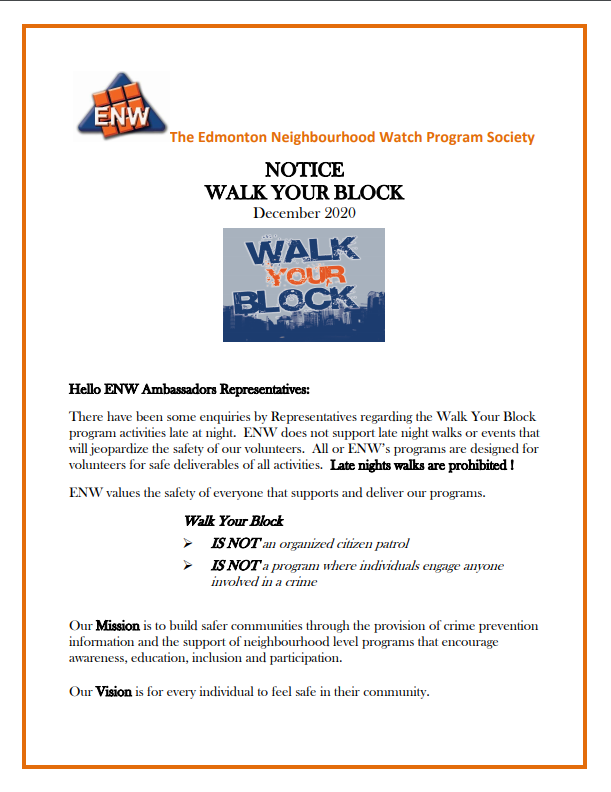 Benefits & Value of Walk Your Block
As a City – Decrease crime
Crime is difficult to perpetrate if people are out walking and watching
Less police resources needed for property crime
Economic benefits: taxes, insurance premiums, human resources
In the Community – Know your neighbours
Learn who belongs in the neighbourhood
Neighbours can watch out for each other
See something suspicious – report it
For the Individual – Safety & Security
Sense of ownership for your own safety and security
An opportunity to meet and know your neighbours
Better sense of community
Health benefits of being active
Economic benefits
Walk Your Block
IS NOT an organized citizen patrol
DOES NOT require a screening process
DOES NOT require membership with Neighbourhood Watch
IS NOT a program where individuals engage anyone involved in a crime